Festive greetings
Dear Friends of the Constitution

This year we have put up a lot of resistance. We were a disruptive factor for the establishment!
Even if we did not fully win against the Covid measures on the 28th of November, the events of the last few weeks and months show that we have made the resistance public quite clearly. Imagine if we had not done all this, but surrendered to fate....
And that is our core concern: we do not silently accept all these violations of the constitution. Sometimes we have to speak out actively and loudly, sometimes we have to wait for developments and then plan, sometimes we just have to support each other and know that we are not alone.
The year was packed with activities and turbulence. All this has also left its mark on us on the board. None of us wished for the developments of the last few weeks. But of course we continue with our heads held high and a start has been made: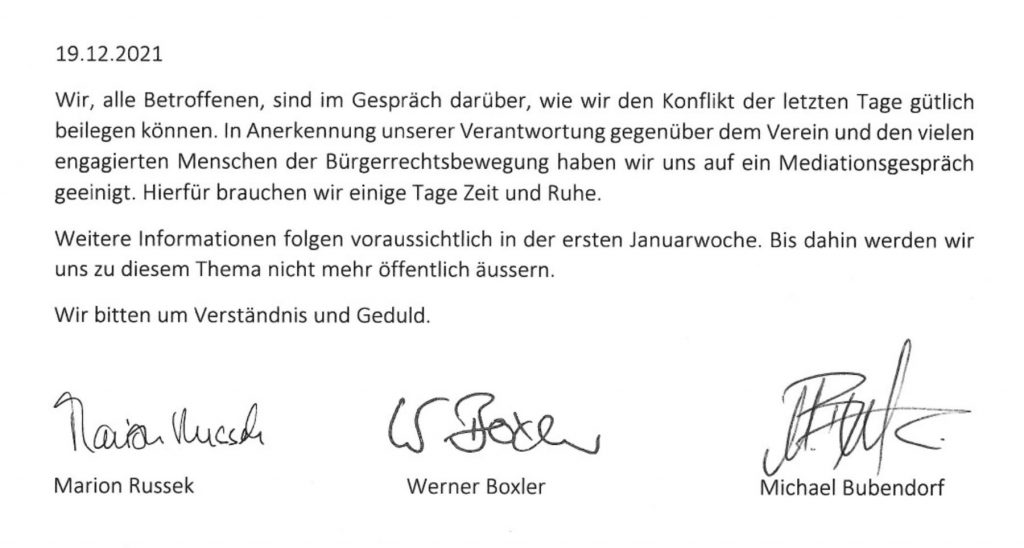 Was it perhaps necessary? Probably. Because it made it clear to everyone that he or she has to rethink his or her motives, role and goals for the association.
Now, during the advent time and the darkest season of the year, is the time for the rest. Time to light one light after another. Or is that just a wish? A wish to pause and digest everything first? We think 'yes', because we all need this breathing space.
On the other hand, we have to keep up the pressure on our government.
Because we have taken up the cause of upholding the constitution. We are consistently pursuing this path, even if it is not easy and will probably take a long time. We are pleased to see that people are increasingly taking the reins into their own hands. Improvement rarely comes from one group alone; it takes many people to help and pull together.
Did you know, that 3.5% of the population is enough, to bring down the intentions of a government? However, the prerequisite is that they are united and act absolutely non-violently. So let us stand together, in good spirits and full of confidence.
Christmas is going to be exciting this year. Thanks to the constantly changing measures, planning is often difficult. However, we hope that you will find a way to celebrate the festive season together peacefully and comfortably.
We wish you all much strength, positive thinking and action ... and some courage.
Happy holidays
Marion Russek and Werner Boxler, the Co-Presidents